Community involvement is a value both we and The Home Depot share. So when our Knoxville, TN team got the opportunity to work with Team Depot volunteers on a local project, they were ready to help.
The Team Depot project took place at the Knoxville Veterans Home. It was part of an ongoing project to help refresh and update the grounds at the veteran's home.  Tuff Shed Assistant Manager Ben Shafer and Area Sales Manager Joshua Strom volunteered at the event, helping to build a new TRS-800 storage shed. It was built alongside an identical building that was installed two years previously, adding extra storage space for landscape and outdoor items.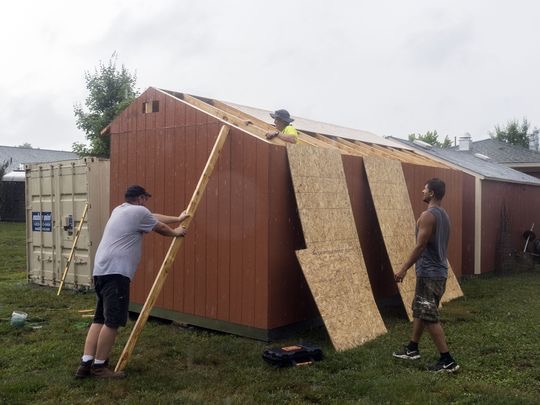 In addition to installing a new storage shed, Ben and Joshua weeded paths and mulched flowerbeds while Team Depot Knoxville built a new paver pad. The team worked in the rain to complete the projects and walked away with a renewed pride for their community.  "We were honored to volunteer for a project that not only helps the community but gives back to our Knoxville veterans as well," says Joshua.
Read more about the volunteer day here: https://www.knoxnews.com/story/news/2018/06/21/home-depot-volunteers-revitalize-ben-atchley-tennessee-state-veterans-home-knox-county/718064002/